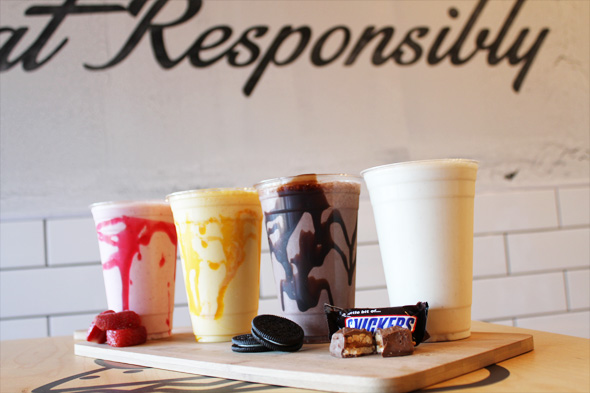 Our Real Shakes are those kind of real shakes that were enjoyed by kids and kids at heart back in a time that was much more simple and real. We have Strawberry and Mango made with real fruit and for the chocolate lovers, we have Chocolate & Oreo and Snickers and Peanut Butter.
Come and Visit Us
Now I know you are reading this and seeing this photo of our milkshakes and unfortunately you aren't able to grab them out of the photo, so you will just have to come and visit us at our maiden store at Arudel on the Gold Coast.  Don't forget, you will have to eat something in order to warrant drinking a shake to wash it down   as your shake is there to wash it down.  So let us recommend that our shakes go particularly well with our 'Royale With Cheese' burger and the burger of all burgers, 'The LOT' which is firmly becoming a favourite of our Burger'd aficionados.
Holy Burgers Batman
We are all about convenience too so if you're needing to grab something on the go, just pull into one of the parks out the front of our shop and we'll get your order to you quicker than you can say Holy Burgers Batman!  If you need some mouth-watering inspiration and want to get Burger'd on a regular basis, we'd love to have you part of the Burger'd world – Facebook, Insta, Twitter.